WaterSafe : Science Fair Project Test Kit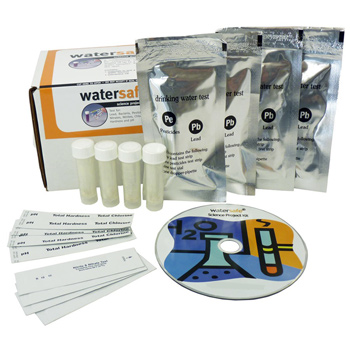 Science Project Kit 4-pack is a comprehensive test kit for comparing the water quality of up to 4 different water samples. Results on the spot.
Tests for:
Lead
Bacteria
Pesticides
Nitrates
Purity of water has far reaching real life significance. Science Project Kits are ideal for for science fairs and school projects. They are designed to provide structure and at the same time can highlight student thought and innovation. Kits are easy enough to be used by elementary school children and scientifically sophisticated enough to be used in experimental investigations by high school students.
Science Project Kit contains:
All supplies necessary to conduct scientific investigation
Directions for use of the water test kits
Suggested project outline
Presentation-ready data recording sheet
Background information on water purity and ideas for water source comparisons

EPA maximum contaminant levels or guildline standards:
| | |
| --- | --- |
| Bacteria | None |
| Lead | Below 15 ppb |
| Pesticides | Below 3ppb (atrazine), Below 4ppb (simazine) |
| Nitrite | Below 1.0 ppm |
| Total Nitrate/Nitrite | Below 10.0 ppm |
| pH | 6.5 to 8.5 |
| Total Chlorine | Below 4 ppm |
| Total Hardness | 50 ppm or less |
| Copper | 1.3 ppm |
| Iron | 0.3 ppm |