WaterSafe : All-in-One Test Kit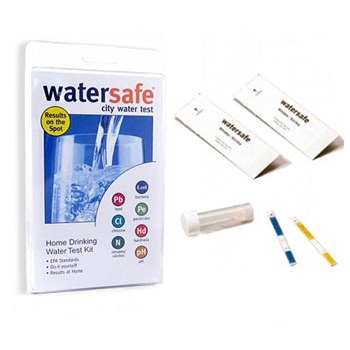 All-in-one WS 425B drinking water test kit. Comprehensive water test that checks for Bacteria, Lead, Pesticides, Nitrates, Nitrites, Chlorine, pH, and water hardness. Test for 1 water source.
Before you begin...
Keep tests out of reach of children and pets. Do not ingest anything from this test kit. Do not drink water sample used for testing. Store and use at room temperature (60-86 F)
Do not open packets or a vial until you are ready to perform the tests.
Do not use on hot water or water containing bleach detergents.
Do not re-use any part of the test kit.
Read and follow all instructions carefully.

EPA maximum contaminant levels or guildline standards:
| | |
| --- | --- |
| Bacteria | None |
| Lead | Below 15 ppb |
| Pesticides | Below 3ppb (atrazine), Below 4ppb (simazine) |
| Nitrite | Below 1.0 ppm |
| Total Nitrate/Nitrite | Below 10.0 ppm |
| pH | 6.5 to 8.5 |
| Total Chlorine | Below 4 ppm |
| Total Hardness | 50 ppm or less |
| Copper | 1.3 ppm |
| Iron | 0.3 ppm |